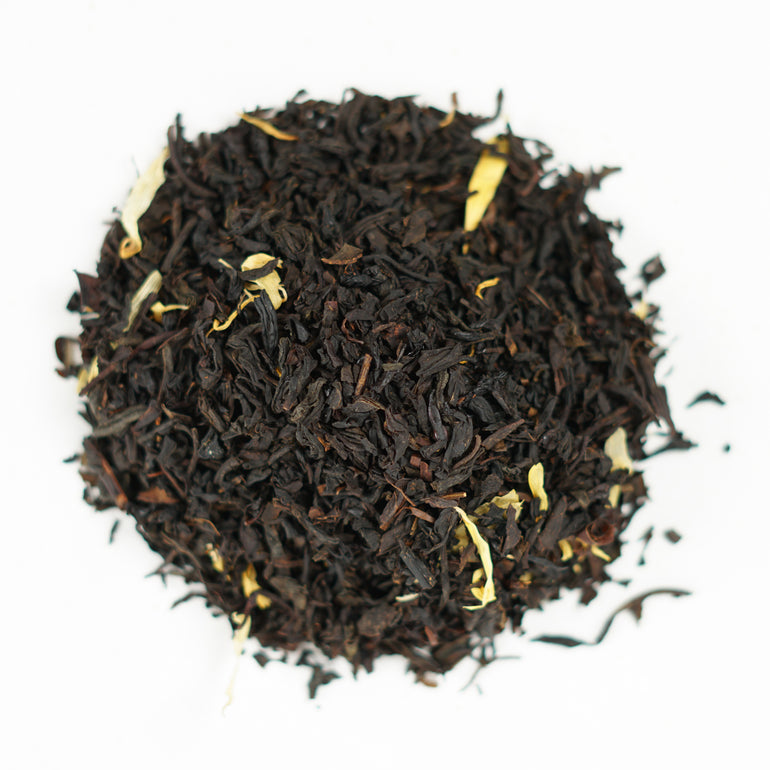 Rich apricot flavored tea with lovely yellow-orange calendula flower petals.
Add a dash of sugar to enhance the flavor. Makes stunning iced tea.
Brewing Tempurature:
100ºC/212ºF
Hot Brewing:

Bring filtered or freshly drawn cold water to a rolling boil. Place 1 slightly heaping teaspoon of loose tea for each 7-9oz / 200-260ml of fluid volume in the teapot. Pour the boiling water into the teapot. Cover and let steep for 4-5 minutes according to taste (the longer the steeping time the stronger the tea).
Iced Tea Brewing
(Individual Serving):
Place 1 slightly heaping teaspoon of loose tea or 1 tea bag into a teapot for each serving required. Using filtered or freshly drawn cold water, boil and pour 6-7oz/170-200ml per serving over the tea. Cover and let steep for 5 minutes. Add hot tea to a 12oz/375ml acrylic glass filled with ice, straining the tea or removing the bags. Not all of the tea will fit, allowing for approximately an additional ½ serving. Sweeten and/or add lemon to taste. A rule of thumb when preparing fresh brewed iced tea is to increase the strength of hot tea since it will be poured over ice and diluted. (Note: Some luxury quality teas may turn cloudy when poured over ice. This is a sign of luxury quality and nothing to worry about!)
---
Free shipping on orders over $50